BelAmi Online Review
Ranking
Price
$ 24.95
$ 34.95
Information
June 09, 2011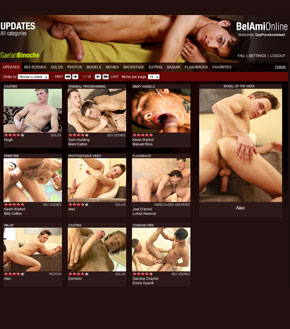 The Review
When it comes to gay porn, you just don't get any bigger, better, or hotter than Bel Ami Online. Based in the Czech Republic and under the direction of George Duroy, Bel Ami has been pumping out gay porn videos since 1993. They were the leaders in the Czech invasion that took North America by storm back in the 1990s and they're still the premiere European gay porn site. Many others try to imitate the Bel Ami style, but no one comes close.

When I logged into Bel Ami Online I was awestruck by the sheer volume of content available on this site. With over 360 models, it'll take you weeks to get through the 328 gay sex scenes and 248 solo jerk-off videos. There are over 560 photo galleries and various other documentaries, previously-unreleased and behind-the-scenes videos. You could watch a video every day of the year and it would still take you close to two years to watch everything they have in stock.

And the Bel Ami models are among the hottest in the world - the cream of the crop. And Bel Ami has exacting standards. They probably have 10 to 20 guys applying for every one who is selected. Mostly Czech born, these guys range from cute to very good looking. The guys are 18 to mid-20s and they're fit, athletic, slender, with some a little more muscular than others. The guys are mostly smooth and since they're virtually all Eastern European, you'll find one of the largest collection of uncut cocks anywhere on the Web. While most of the guys are Czech, there is a healthy representation from other Eastern European countries like Poland and Hungary.

Bel Ami Online updates every day. Sometimes it a duo gay sex video, sometimes a jerk-off video; it may be a behind-the-scenes documentary, a photo gallery, or something pulled from the never-before-seen archives.

The videos are offered in a wide variety of formats. First, you can watch the movies as streaming Flash videos at 640 x 360 and there are smaller versions to suit your bandwidth. You can also download HD and regular versions in WMV and MOV or MP4 formats, and these are quite large at 800 pixels wide and the HD videos are even larger than that. There are also versions for your iPod or iPhone, which are smaller in size, but perfect for the medium.

One of the things I like the most about Bel Ami Online is their search features. You can cruise through an alphabetical listing of their models and find all of the appearances of each guy. You can also search for videos by release date or rating, you can sort the videos by longest or most discussed on their member's forum.

Bel Ami also has a good offering of bareback sex videos, which they call condom free. Bel Ami is also the king of the gang bang (which is another way of sorting videos) with as few as three or four guys and as many as 10, 15, or more guys in one sex scene. If you're just looking for blowjob scenes, you can sort the videos this way; or perhaps you'd like to see to co-productions between Bel Ami and Corbin Fisher. Bel Ami Online makes it so easy to find whatever you're looking for.

Photo galleries usually feature 24 pictures and they're a variety of digital stills or screen grabs. You can look at them online in thumbnail galleries or you can download a zip file.

The guys on Bel Ami Online are simply gorgeous. When you're as big and famous as Bel Ami, you can have your pick of the very best the Czech Republic has to offer. You'd be hard pressed to find any guy who isn't very good looking on this site. And most of the guys range from well hung to hugely endowed, and of course almost every single guy is sporting foreskin.

Whether you like blonds or brunettes; slender guys or well-built studs; bottoms or tops; solos, duos, or gang bangs; jerking off, sucking, or fucking; you're going to find it at Bel Ami Online. There's so much on offer that you'll go dizzy trying to download it all. And since the site doesn't use DRM, the videos are yours to keep. A lot of the videos have interview portions, and since many of these models don't speak English, Bel Ami includes subtitles.

If you like European guys and a variety of sexual scenarios, I don't know why you'd go anywhere else. Bel Ami Online is a monstrous big site with some of the hottest guys you'll find on any site. I'm off to start my two-year journey through the hot guys of Bel Ami Online.


Picture Samples
The below picture samples give you an idea about the style of the content and the looks of the models. The below pictures have been resized to fit into this page. Actual pictures are bigger. Click the thumbnails to see the larger versions. Larger versions will open in a new browser.


Videos
576+ videos
No
Yes
WMV, MOV, MP4
1160 x 650, 800 x 450, 640 x 360, 320 x 240
Pictures
560+ photo sets
24 photos
Yes
Yes
Various sizes
Prices
$ 24.95 (recurring)
$ 34.95 (recurring)
$ 79.95 (non recurring)
$ 149.70 (non recurring)
Payment options: Credit Card, Direct Debit, Phone Billing
Discreetly billed by SegPay
Additional Information
Share this review