Cum Pig Men Review
Ranking
Price
$ 24.95
$ 59.95
Information
May 28, 2011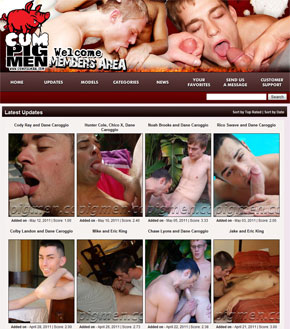 The Review
Cum Pig Men is one of two sites run by Factory Video, one of the largest producers of gay bareback porn.
Dudes Raw
focuses on bareback fucking and Cum Pig Men gives us lots of blowjob, cum eating, and sperm swallowing. The guys range from skinny young guys to muscular men in their twenties, and quite a few of them are tattooed. There's a nice variety of smooth and hairy guys.
Cum Pig Men had 272 video episodes at the time of this review and over 250 of them end with a guy taking a load of cum in his mouth, on his face, or down his throat. There's not a lot of ass fucking on Cum Pig Men, if you're interested in anal sex, check out
Dudes Raw
. But regardless of which site you join, you can add the other for a cheaper sign-up fee; for instance when joining Cum Pig Men, you can add
Dudes Raw
for another $14.95 and that'll get you access to another 176 videos.
This site doesn't seem to have a rigid update schedule. They seem to be aiming for updates a couple of times a week, but some months have eight updates, others have nine of ten updates. Sometimes updates are spaced a few days apart, sometimes you get two videos on the same day. Each episode offers both downloadable and streaming videos. The streaming Flash videos display at 630 x 400 pixels and there are two different versions to suit your Internet connection.
The downloadable versions come in MP4 and WMV and they display at 848 x 480 pixels. The quality is fair to pretty good. I found that some of the videos had pixellation problems and that probably comes from the videos being encoded at lower bit rates to create small-sized videos that save on bandwidth when they're downloaded or streamed. I would have been happier with higher file sizes producing more clear visuals.
There were some other inconsistencies with the videos. Not all episodes had both streaming and downloadable videos, and some didn't have two different streaming versions. The newest videos seem to have all the bases covered, but as with a lot of gay porn sites, the options vary with the older videos.
You can search for videos by a few categories and there's also a model page where the site's repeat cum pigs are listed with all of their appearances. For instance, Lance Brody is a cute, dark-haired guy who loves sucking cock; and his page features his 17 video appearances. But most of the guys he's blowing in his videos don't have similar pages since they're only appeared in one video.
Each episode also comes with a downloadable zip of pictures, which are large-sized screen grabs. You can also view these pictures in a thumbnail gallery on each episode's page.
I'm a cocksucker at heart, so I really enjoyed the videos at Cum Pig Men. I love watching guys sucking dick because I often get new ideas on how to service dick better. And of course, with so many of the videos ending with a facial cum shot or a guy blowing his load into a cocksucker's open mouth, there was a lot of cum to take him. There are also 35 plus videos where one hungry nob gobbler is taking care of more than one cock at the same time. And this was a big turn-on, I love watching group sex scenes.
In spite of some of the problems with the videos, I'd still recommend joining Cum Pig Men, especially if you're into oral sex and love watching cum flying into open mouths. With almost 300 videos to download, you'll be able to beefy up your private collection of gay porn quite nicely on this site. And since there's no DRM, these videos are yours to keep.
Picture Samples
The below picture samples give you an idea about the style of the content and the looks of the models. The below pictures have been resized to fit into this page. Actual pictures are bigger. Click the thumbnails to see the larger versions. Larger versions will open in a new browser.



Videos
272+ videos
No
Yes
WMV, MP4, Flash
848 x 480, 630 x 400
Pictures
272+ photo sets
25 photos
Yes
No
629 x 950
Prices
$ 24.95 (recurring)
$ 34.95 (non recurring)
$ 59.95 (non recurring)
Payment options: Credit Card, Online Check.
Discreetly billed by Epoch.
Additional Information
Share this review