Bound Gods Review
Ranking
Price
$ 34.95
$ 69.95
Information
March.08, 2009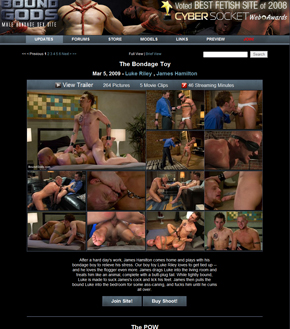 The Review
Bound Gods was launched in June 2008 by the people who operate the best kink sites in this industry and who also brought us Men In Pain. Bound Gods is a typical fetish site featuring hardcore BDSM, torturing, S&M, submission and humiliation. It's probably the most extreme BDSM site around.
By adding a new episode to the site, Bound Gods grows rapidly. Currently there are 40+ episodes, so lets see what Bound Gods has to offer. The tourpages are dark, simple and straight to the point. They give you a pretty good idea of what to expect inside the memberarea. There are some photo examples available for each episode listed on the site.

Personally, I am quite a fan of BDSM, so I am excited to see the memberarea of Bound Gods. The look and feel of the memberarea is quite similar to what I've seen on the tour so far, again straight to the point and very easy to navigate.

Each episode comes with a photoshoot (approx 200 photos each) and a video shoot (approx 40 minutes each). The photos are sharp and wide (800x1200), which helps to show you every single detail. I really like the dungeon settings, as it makes you feel like you're part of the scenes.

The videos can be watched on screen in a flashplayer or can be downloaded right to your computer (Windows Player). The videos are all in HD quality and are pretty large in size (1280x720). The videos at Bound Gods are not protected by DRM, which means you can still watch the videos after you cancel your membership. Always a good thing to see that you can actually keep the stuff you have paid for.

The guys at Bound Gods are overall handsome muscle guys. The creative minds at Bound Gods really know their business and make sure that every episode gets you something unique and new. The dominant masters really know what they are doing and they have the perfect ways and tools to get their victims into submission.

If you like your guys tied tightly, really enjoy the art of rope bondage and also enjoy hardcore submission, hard sex and humiliation, then Bound Gods will certainly give you what you're looking for.

Although the memberships are rather expensive, I believe that the real fans should not worry about that, as Bound Gods is a hardcore rope bondage paradise. Your membership also gets you a 10 percent discount in the Bound Gods webshop.

Picture Samples
The below picture samples give you an idea about the style of the content and the looks of the models. The below pictures have been resized to fit into this page. Actual pictures are bigger. Click the thumbnails to see the larger versions. Larger versions will open in a new browser.

Videos
40+ videos
No
Yes
Windows Player, Flash, iPod/PSP
1280x720, 704x396
Prices
$ 34.95 (recurring)
$ 59.95 (recurring)
$ 69.95 (recurring)
$ 117.95 (non-recurring)
Payment options: Credit Card, Online Check, Postal Mail.
Discreetly billed by DHD Media / Epoch.
The 120 day membership is the best pricing option.
Additional Information