Daddy Mugs Review
Ranking
Price
$ 2.95
$ 19.95
Information
January.06, 2010
The Review
Daddy Mugs is a kinky and perverted older man who has a real taste for guys ranging in age from 20 years old and to about mid-20's. Whether it's a little bit of piss or foot play, light bondage, bareback or just straight ahead vanilla fun, Daddy is into most things with his hotties.
Currently there are 169, DRM free videos inside Daddy Mugs and the quality isn't too bad at all. The downloadable videos are in WMV and there are also embedded flash versions of each scene as well. All feature camcorder captures which are of pretty good quality and capture some good moments in the action. The content is 100% exclusive to Daddy Mugs and whether you like to see Daddy with a younger guy, a guy solo, or the guys without Mugs in the scene, there's something for everyone.

Daddy Mugs is not the most elegant design around, but it's more than good enough to get the job done and navigation is set up in a very easy to use format. The main menu runs at the top of each page and there are also drop down menus for each model page, as well as each video collection page. Very convenient. There are no advertisements inside Daddy Mugs.

As of January 6th 2010, Daddy Mugs boasts 169, DRM free, exclusive videos inside. The wmv format movies range from 883kbps at a screen resolution of 352x288 to 1.8Mbps at a size of 720x576. A flash streaming version at a bitrate of 1.5Mbps and a resolution of 640x480 can also be found for each episode. The videos range in length from 15-30 minutes and the action is captured as good as it can be in an amateurish format. There are lots of closeups and cumshots to be had.

The matching images for each video are actually camcorder captures from the videos themselves. Considering what they are, they're not that bad of quality at all. The newer images are better than other of course. Sometimes they're a bit repetitive, but every fourth of fifth image is pretty hardon inspiring and catches a great moment in the scenes. An average of 80 images can be found in each gallery. The portrait sizes are 599x900 with the landscapes at a size of 900x599. These would be the average sizes. The galleries are seen in a classic thumbnail fashion and flash slideshows are not currently available. Members may save each image individually, but there are no zip files for downloading the full galleries.

The main model here of course is Daddy Mugs himself. He's a largely built, stocky 40-something man with a good sized cock, a healthy sexual appetite and a very open mind. His lads range in age from 20 and up and range in body shape and looks significantly. Most I would consider twinks, however, a few jock types can be found as well. Some are well hung, while others would be considered to be of average endowment. Some of the guys I find cute, some quite good looking, and others more average. My own personal tastes. The action varies significantly. Daddy Mugs is pretty kinky and likes to engage in different things. The guys are sometimes with him on this, while others just prefer to jerk off or get it on with another model around their own age. From watersports to foot play to bareback, to straight ahead cocksucking and fucking, it can all be found inside Daddy Mugs. The scenes are quite hardon inspiring and I feel there is probably something for everyone here.

The last 3 years have seen Daddy Mugs grow into a nice sized exclusive site. The content is of good, amateur quality and the scenes are hot as hell. The amount of variety in the action will certainly have something for everyone in my opinion. The site is set up in an easy to use format and updated come in usually once a week. For those into mature on younger guys, foot and pee fetishes and other kinks, Daddy Mugs is a veritable dream cum true!

Picture Samples
The below picture samples give you an idea about the style of the content and the looks of the models. The below pictures have been resized to fit into this page. Actual pictures are bigger. Click the thumbnails to see the larger versions. Larger versions will open in a new browser.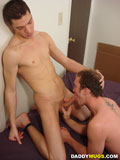 Videos
169+ video shoots
Yes
Yes
Windows Media Player, Flash, Quicktime
352x288, 640x480, 720x576
Pictures
169+ photo sets
80 photos
No
Yes
599x900
Prices
$ 2.95 (recurring)
$ 6.95 (recurring)
$ 9.95 (recurring)
$ 14.95 (recurring)
$ 19.95 (recurring)
$ 24.95 (non-recurring)
Payment options: Credit Card, Online Check, Phone Billing.
Discreetly billed by CCBill.
Additional Information