BoyNapped Review
Ranking
Price
$ 24.95
Information
December.22, 2009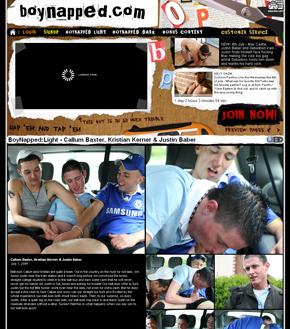 The Review
BoyNapped is a site which will thrill all you kinky folks out there. Their fetish is based around twinks who go through a mock kidnapping from the sidewalk, taken for a ride in a van and either tied and abused or fucked silly by their captors. The concept is pretty hot and of course the content is 100% exclusive. They update regularly and while a fairly new site on the scene compared to the rest of the sites on the same network, BoyNapped already has a good sized library of media for you, boasting 84 videos and matching video captures of each shoot. Members also get full access to another twink on the same network - Twinks.com, as well as 34 video feeds and live webcam shows.
The main menu inside the Members Area of BoyNapped runs underneath the header. The first item in the main content area is the latest news and update list. Next comes large preview images in a collage format of the latest updates with links to the video viewing options. Then the most favored videos chosen by Members are available. A scrolling window with what's coming soon finishes off the main content area to your left. The right sidebar contains links to Boy Live (the live webcam feature in BoyNapped which features a new twink twice a week), a poll to vote on, More Video Updates, a banner linking to the Bonus site and then a link to your Favorites.

As of December 22nd, 2009 there are 84 videos featured inside BoyNapped. There are two types of videos to choose from in the main menu: Boynapped Light - 40 videos and Boynapped Dark - 44 videos. The light variety is more your basic suck and fuck action. The dark versions are more on the abuse and BDSM side and contain content more hardcore the "light" variety. With 3 videos to each collection page, each can be navigated to via numbered and arrow links. Members have 2 options when it comes to viewing the videos: embedded streaming and download. The embedded videos run at at resolution of 850x485 and Members can choose from a drop down menu to view the movies in either wmv or flash. You can choose your bitrate from a drop down menu. Options for each are 38kbps - 1500k wmv and 38kbps - 1500kbps flash. The wmv downloads come in at 450kbps on a 15Mbps connection. DRM is in place for the downloadable wmv files. They come in at a bitrate of 3376kbps and a resolution of 850x485 and therefore are of great quality.

At the bottom of each video page there are 1024x576px screencaps taken from each scene's video. I didn't find them of exceptional quality, however, they certainly capture the action quite well. Sometimes even better than the videos themselves. Each gallery contains between 19 and over 100 screenshots on average. Zip files are not available for download but each screenshot may be saved via right clicking and "saving as".

The models at BoyNapped are most certainly twinks in all aspects. They're cute, young and quite skinny. Most are tall too as well as hairless. The twinks at BoyNapped are supposed victims of kidnappings where they are picked up in a cruising vehicle. Most scenes are quite believable too and sometimes the guys are left on the sidewalk after they get used for their kidnappers' pleasures. Sometimes the scenes get quite hardcore and show twinks being abused with objects being shoved up their asses and the like.

For those who really get off on the concept of twinks being kidnapped and abused, Boy Napped could really be to your liking. The models are quite cute and most of the scenes take place in the UK so they have sexy accents too. I didn't care for the quality of the screenshots that much, but the videos are of exceptional quality and most scenes were erotic to say the least. The fact that DRM is in place is a real drag, but with such good embedded videos available, you still get to see some great porn. I do believe BoyNapped is a good cost value for those who really want to see these lads kidnapped and fucked silly. Add access to Twinks.com - another exclusive twink site, 34 video feeds and live webcam shows and you've got the makings of a huge package of gay porn!

Picture Samples
The below picture samples give you an idea about the style of the content and the looks of the models. The below pictures have been resized to fit into this page. Actual pictures are bigger. Click the thumbnails to see the larger versions. Larger versions will open in a new browser.
Videos
84+ video shoots
Yes
Yes
Windows Media Player, Flash
850x480
Pictures
84+ photo sets
50 photos
No
Yes
1024x576
Prices
$ 24.95 (recurring)
$ 59.95 (recurring)
$ 99.95 (non-recurring)
Payment options: Credit Card, Online Check, Regular Mail.
Discreetly billed by Epoch or CCBill.
Additional Information