Sexgaymes Review
Ranking
Price
$ 4.95
$ 29.95
Information
December.20, 2009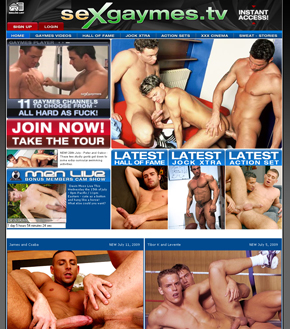 The Review
Sexgaymes is another hardcore manly men site from the Pistol Media network. When it comes to hot men there are only a few at the top of the list in my experience. Sexgaymes would be close to the top. Right from the tour we are given a good indication what to expect through high quality video previews and images.
Muscles, big cocks and sometimes even hair are a large part of the offerings at Sexgaymes. Fair warning: some of thecontent in this site features bareback action. Currently there are 376 download videos in wmv format, as well as streaming flash and wmv versions. The downloadable videos do have DRM in place. There are also 435 picture galleries. Some match the videos and some don't.

Sexgaymes promises us 11 channels to choose from for hardcore man on man action. MenLive - a live webcam feature is also part of the deal. To top things off, Members also get access to Hot Barebacking, Rear Stable, Twinks, Fisting Central and High Octane - more exclusive sites on the same network. Let's see if they give us what they promise.

The Members Area of Sexgaymes is called "The Clubhouse". The main menu runs at the top of the page in the header and contains Gaymes Videos, Hall Of Fame, Jocks Xtra, Action Sets, XXX Cinema, and Sweat - Stories. In the main content are down the middle and to the right we've got the Latest News, Latest Episode, Latest Hall Of Fame, Latest Jock Xtra, Latest Action Set, Latest Sweat Story, Most Popular Updates, More Video Updates, Bonus Site Updates and finally, what's Coming Up. One banner promoting 33% of to another site on the network - Bang Bang Boys - is at the very bottom of the page.

In the left sidebar there is a search engine, links to MenLive, the Sexgaymes VOD cinema, an application to become a model, and a member's special ad for access to Dark Thunder and Thug Orgy - 2 black sites also on the same network. An ad for a discount to Boy Napped is next followed by a poll for all to take part in. Following are links to the Bonus Sites that came with your Membership and a few more ads.

Gaymes Videos takes us to the main collection of videos where there are 9 categories with: Aqua, Gymnasium, Athletics, Fighting, Balls Sports, Great Outdoors, Alpha Males, Brazilian Male, Behind The Scenes and Active Gay Lifestyle. As of December 15th 2009 there are 376 videos in total for the 9 cateogories. 10 videos with linked thumbnails are on each page and you can navigate from page to page via numbered links at the top and bottom of each page. Also included on the video collection page is a link to Wearing Loads - the Sexgaymes game show. Currently it's on hold though.

On each particular video page there are two options for viewing movies: flash and wmv embedded streaming and wmv downloads. For the embedded movies Members have a choice of 38kbps to 1500kbps streams for both formats. Screen resolution is at a nice large 850x480 and can be viewed in large screen mode as well. I found that sometimes the picture was even better when viewed in full screen, however, the quality is good all around. The downloadable wmv videos have DRM in place and come in at a resolution of 850 x 478 and a bitrate of 1.59Mbps.

Another great section for finding the videos inside Sexgaymes is Hall Of Fame. Currently there are 271 profiles for most of the models in action and each has an average of 0-6 videos of them in action either solo, or with other hunks. Sometimes the men haven't starred in videos but are favorites from MenLive - the live webcam feature which comes with your Membership. Finally, Jock Xtra has another 278 videos featuring the hottest jocks from SeXgaymes. All videos here work the same as with the other sections.

Image galleries are accessible via Action Sets in the main menu. At this time, there are 435 picture galleries with an average of 48 pictures per set. Screen resolutions are 480x720px for portraits and 720x480px for landscape images. The quality is quite high and the pics capture the action very nicely. Galleries are either viewable via a classic thumbnail format or a flash slideshow. While some images do have watermarks on them, they do not take away from the action at all. There are no zip files available for download, however, you may right click and save each image to your computer.

The best way to describe the men at Sexgaymes... smoking hot. Most are very well hung, all are in great shape and vary from your good looking jock type to all out masculine studs. All men are professionals - even if they have only done a few videos in the past. The kind of hunks who were meant to do hardcore gay porn and get right into what they're doing. From jerking off alone to rimming, cocksucking and fucking, Sexgaymes has a great variety of action going on in their productions. The emphasis here is on real men. Jocks and athletes of all kinds, outdoorsmen and the like. There is a good amount of role playing going on like fighting, wrestling, boxing and other sexy games.

From what I've seen here, Sexgaymes is one of the best sites on the Pistol Media network. For one thing, the amount of content is unbelievable to say the least. 100s and 100s of videos in good quality are there for our erotic entertainment. Some are better quality than others though. While DRM is in place for the downloadable videos, the embedded movies are certainly good enough when it comes to watching hours of gay porn.

Updates come in weekly and can be seen on the main home page. I will say I wish there were more image galleries. Sexgaymes is more about video media than images though. So beware of that if you're more of a picture person. The bonuses with a membership certainly bump Sexgaymes up a notch for my liking. Full access to 5 more exclusive gay porn sites: Twinks, Rear Stable, Fisting Central, High Octane and Hot Barebacking make this a pretty good deal in my opinion.

Picture Samples
The below picture samples give you an idea about the style of the content and the looks of the models. The below pictures have been resized to fit into this page. Actual pictures are bigger. Click the thumbnails to see the larger versions. Larger versions will open in a new browser.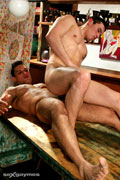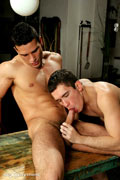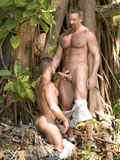 Videos
376+ video shoots
Yes
Yes
Windows Media Player, Flash
850x480
Pictures
435+ photo sets
50 photos
No
Yes
480x720
Prices
$ 4.95 (recurring)
$ 29.95 (recurring)
$ 59.95 (recurring)
$ 99.95 (non-recurring)
$ 149.00 (non-recurring)
Payment options: Credit Card, Online Check, Regular Mail.
Discreetly billed by Epoch or CCBill.
Additional Information