Cocky Boys Review
Ranking
Price
$ 24.95
$ 64.95
Information
January.11, 2009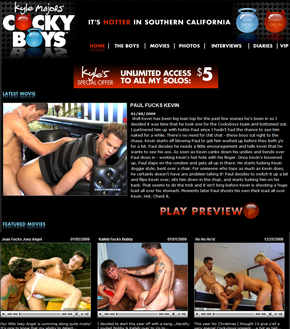 The Review
Kyle Majors' Cocky Boys was originaly launched in the second half of 2007 and features college jocks in solo and hardcore action. Cocky Boys is a slick and neatly designed site and very easy to navigate. The tourpages give you a clear overview of all the episodes and models and shows you exactly what to expect inside the memberarea. There are even some previews available.
The models are very cute and gym-sculpted college jocks from Southern California. You'll find some fresh new faces as well as some familiar faces. Let's see what the memberarea has in store for us. The main navigation can be found on the top of the site and from there you can explore all parts of the site.

First, there is a link to the model overview. Each model has a profile page with a bio and links to their movies and photos. Second, there is a link which leads to the overview of all available movies. Movies are available in Flash, MP4 and Windows Media Player format and can be watched as a stream or donwnloaded to your own harddisk. The HD videos are available in a very large size (1280x740) and both the quality as well as the sound are of excellent quality.

Next there is a link that leads to the photos. Each episode comes with 100+ photos, which is a great addition to the Cocky Boys site. The photos are actually videostills, but still the quality is good. The next link in the menu takes you to part where you can find the interviews with the models. These are fun to watch and lets you know the boys a bit better. Then there is a link called Diaries, which is actually a kind of blog offering all sorts of erotic stories.

The VIP area offers you free desktop wallpapers and some additional bonus videos. The VIP area is not updated very regulary, but hey it's a nice extra part of the site. Then there also is Kyle's Journal, which is a collection of articles about the site, not very exciting, but probably interesting for those who really care.

Cocky Boys updates at least twice a week with a full length episode (and photos). Besides the ever growing movie and photo archives, Cocky Boys offers liveshows, wherein you can see boys in solo jerk off action or couples sucking and fucking live on screen. The liveshows are very hot to watch, as the models are absolutely gorgeous and they really are in the mood.

Kyle Major is on the right track with his Cocky Boys site. In a few months time, cocky Boys developped as a respective site and earned it's own place in the world of online adult entertainment. If you are looking for hot college jocks enjoying eachother in hardcore action, then Cocky Boys is the site for you!

One more remark, Cocky Boys offers cheap 5 dollar memberships as well, but this membership only gives you access to the solo movies. To enjoy Cocky Boys to the fullest and see all episodes and additional movies, you need to have the full membership.

Picture Samples
The below picture samples give you an idea about the style of the content and the looks of the models. The below pictures have been resized to fit into this page. Actual pictures are bigger. Click the thumbnails to see the larger versions. Larger versions will open in a new browser.



Videos
130+ videos
No
Yes
Flash Player, MP4, Windows Player
360x240, 1280x740
Prices
$ 24.95 (recurring)
$ 34.95 (non recurring)
$ 74.95 (non recurring)
Payment options: Credit Card, Online Check.
Discreetly billed as CCBill.
Price drops to $ 19.95 after 3 months.
Additional Information