Hot Barebacking Review
Ranking
Price
$ 29.95
Information
January.10, 2010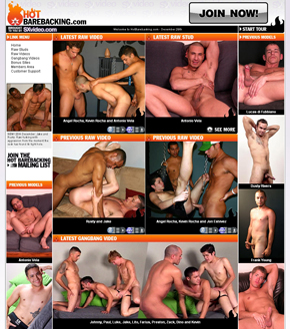 The Review
Gay bareback sex isn't for everyone, but for those who enjoy a cock in an ass without a condom, Hot Barebacking certainly has cornered the market for this fetish. They've been around for several years now and update on a regular basis. Since we are talking about bareback sex, it's no wonder these studs are well hung, muscular and love to fuck fuck fuck.
Inside, members will fine 204 exclusive videos featuring all the bareback action one can imagine. The downloadable videos are in WMV format and do have DRM in place. However, good to great quality flash streams are also featured. Matching photos and screencaps come with each video as well, capturing some hot moments from the action. It's certainly worth mentioning that a full membership also gets you full access to 5 more exclusive sites on the same network.

The Members Area of Hot Barebacking is set up with the main menu in the top left of the sidebar with some ads leading to discounts and whatnot running under it. Under the ads are links to the Bonus sites which Members have full access to with a Hot Barebacking Membership. Our main updates and content is all to the right of the sidebar. The "Latest Raw Stud" is featured with a thumbnail link to his shoot. Beneath him we have the "Latest Video", also with a thumbnail leading to that particular update. Neither one is listed by the date they were added to Hot Barebacking. Further down we have the "Latest GangBang" and the "Most Popular Update". Then we have a scrolling page with "More Video Updates" and the "Latest Bonus Site Updates". Another much larger scrolling page features scenes which are "Coming Soon". There is one banner at the bottom of the page advertising 33% off to another site on the same network - Bang Bang Boys.

As of January 10th 2010, there are 161 "Raw Videos" and 43 "Gangbang Videos" at Hot Barebacking. The "Raw Videos" are listed 12 on a page and the "Raw Stud" videos are listed 24 to a page. Getting to each page is easy via numbered links at the top and bottom of each page. On the actual video pages you have two options for streaming: Members can make use of flash video stream from 38k to 1500k or have their script detect the proper bitrate to make for optimum streaming. The flash videos play at a screen resolution of 640x480. WMV videos are also available for download at a resolution of 640x480 and a bitrate of 1790kbps. However, DRM is in place for the downloadable videos. The 1500kbps flash videos range from amateur to very good quality. The action is capture quite well in the videos and all the closeup cock-in-ass action bareback lovers want to see is here.

Finding images at Hot Barebacking is a little strange and I find the setup a little annoying to be honest. There is no separate link to a galleries page in the main sidebar. To see photos and/or video screencaps for each scene you must get to them on the video pages themselves. I suppose in some ways this can be rather inconvenient, even if somewhat unorthodox. If there are solo images for each model, then they are included in the image collection on each video page. Image galleries range in size from 1-10 pics or screencaps to over 50 images. Pictures themselves are viewable at a size of 600x900px and video captures at 900x600px for landscapes and 600x900px for portraits. All are of high resolution quality and capture the action quite well. Galleries are either viewable in a typical thumbnail format as well in a flash slideshow. You can download each image individually, however, there are no zip files available.

The models at Hot Barebacking are what most would consider serious hunks. Men's men. Muscle, tattoos and hardcore sexual appetites are the main courses. Most are well hung and some massively so. All races are available too. Imagine the tougest looking guy at your local gym fucking an ass raw and that's what we pretty much get at Hot Barebacking. No condoms are allowed here. It's nothing but cocks in asses totally unprotected and every once in a while we even get to see some internal cumshots. Hot!! As one might expect of course though, there is plenty of cocksucking, rimming and hardcore manly love at Hot Barebacking.

Hot Barebacking certainly offers members what it promises - hardcore, raw, bareback and most times, messy, gay porn. The downloadable videos are of the best quality, but do have DRM in place. For those who don't care for that kind of thing, the provided flash streaming versions are just about as good of quality and do stream quickly without issue. The imagery inside Hot Barebacking could use a pick-me-up in my opinion, but what's inside does capture some great moments from the videos. Updates do come in once a week, even if dates are not provided for each update and members get full access to 5 more exclusive gay porn sites. These are: SexGaymes, Twinks, High Octane, Rear Stable and Fisting Central. For those of you who don't mind DRM and just want some good hardcore gay porn with a fair size bonus package, Hot Barebacking could be the site for you.

Picture Samples
The below picture samples give you an idea about the style of the content and the looks of the models. The below pictures have been resized to fit into this page. Actual pictures are bigger. Click the thumbnails to see the larger versions. Larger versions will open in a new browser.
Videos
204+ video shoots
Yes
Yes
Windows Media Player, Flash
640x480
Pictures
204+ photo sets
25 photos
No
Yes
600x900
Prices
$ 29.95 (recurring)
$ 59.95 (recurring)
$ 99.95 (non-recurring)
$ 149.00 (non-recurring)
Payment options: Credit Card, Online Check, Phone Billing, Postal Mail.
Discreetly billed by Epoch or CCBill.
Additional Information