Straight Hell Review
Ranking
Price
$ 39.95
Information
March.25, 2009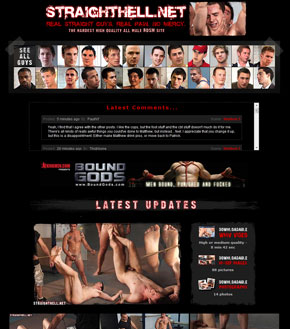 The Review
Real straight guys, real pain and no mercy is the subtitle of Straight Hell and that's actually what this site is about. Straight Hell tricks straight boys and when they are in the hands of the cruel dominant masters, there is no way back!
These poor straight guys are forcibly stripped naked, humiliated, beaten, bound, kissed, forced to suck cock and brutally fucked. Begging and crying doesn't seem to help them, as the dominant masters of Straight Hell haven't heard of the word mercy.

The tour of Straight Hell really shows you what they have in store for you and so far it all looks very promissing. Once inside the memberarea, you'll get right to an overview of all the episodes with the latest one listed on top. The navigation is a bit confusing, however I could still find my way to all the hot pictures and videos. Within the memberarea you'll find advertisements for other sites.

Currently Straight Hell offers 70+ episodes. The full length movies are cut into several parts and cannot be downloaded in full length. Each episode comes with a lot of pictures, which are actually vidcaps.

Straight Hell updates once per week and sometimes adds a bonus episode during the weekends. Members can comment on the episodes and it seems there is pretty much interaction on the site.

Movies can be downloaded directly to your computer and play in Windows Media Player at a size of 960x540px. The quality of the videos is extremely good, even if enlarged to full screen. The sound of the punished straight guys really adds something to it. The movies are not DRM protected, which means you'll be able to watch the videos even after your membership has end.

Each episode comes with a detailed description of that episodes (which are a pretty good read) and a large set of vidcaps. Overall the vidcaps are large and sharp and the action is captured very well.

The guys at Straight Hell are British amateurs between 18 and 30 years of age. Some of the straight guys are very cute and they are actually looking like real straight guys. The concept of Straight Hell is quite unique and there is also a big variety of scenes and they came up with many different ways to humiliate the guys.

The monthly membership is rather expensive, but if you're into BDSM, torment and humiliation, then Straight Hell is probably the site that suits your needs very well. Straight Hell is unique in its kind and that is probably the reason for the expensive membership price.

Tricked straight guys being forced to suck hard cocks, humiliated, bounded and fucked in their virgin asses in HD movies. That's what best sums up what Straight Hell has to offer. If that turns you onw, I would say give it a go!

Picture Samples
The below picture samples give you an idea about the style of the content and the looks of the models. The below pictures have been resized to fit into this page. Actual pictures are bigger. Click the thumbnails to see the larger versions. Larger versions will open in a new browser.

Videos
70+ videos
No
Yes
Windows Media Player
960x540
Prices
$ 39.95 (recurring)
Payment options: Credit Card, Online Check, Phone Billing.
Discreetly billed by Verotel.
Recurring at $ 34.95.
Additional Information