Dudes Raw Review
Ranking
Price
$ 29.95
$ 59.95
Information
May 28, 2011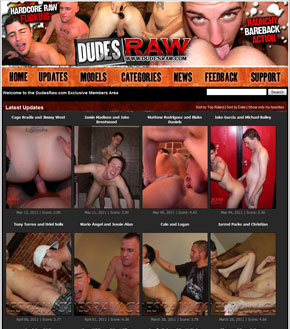 The Review
Dudes Raw is a bareback sex porn site featuring the movies of Factory Video. The guys on the site are mostly twenty-something-year-olds and while there's a variety of body types, most tend to be lean and smooth. There was a healthy representation of Latino guys, too, and a few black guys as well; there are heaps of skinny guys, tattooed men, muscular men, and skateboarders. Really, there's something for everyone, even a few hairy men.
The videos on Dudes Raw focus on bareback fucking. If you're a fan of blowjobs, oral and facial cum shots, you'll want to check out
Cum Pig Men
, Dudes Raw's brother site, which gives you almost 300 cock sucking and cum eating videos.
There are 176 videos in the Dudes Raw member's area. But there doesn't seem to be a hard and fast update schedule. I reviewed this site in May 2011, and in April there were six updates, in March there were nine, and in February and January there were eight updates each. Most of the episodes have two versions of streaming Flash (one high-res and one low-res); the videos display at 630 x 400 pixels but they're encoded at different bit rates, so the lower-res version isn't as clear as the high-res version.
There are also two downloadable versions. The MP4's and WMV's display at 848 x 480 pixels and they're fair to pretty good quality. While these videos are produced by a studio, the production values are more amateur in nature. Two guys in a hotel room with a guy and his video camera, that sort of thing. They're better quality than you'd make with your boyfriend at home, but not a good as the big-named studios with elaborate sets, lighting crews, and make-up artists. This isn't necessarily a bad thing in my book because some of those big studio plots and storylines get a bit ridiculous. And how many times have you fucked on a ladder or while hanging off your kitchen cupboards? Acrobatic sex always looks fun, but there's something to be said for plain old ass pounding action.
I was disappointed with the quality of the videos, there was quite a bit of pixelation and this seems to be the result of the videos being encoded at lower bit rates to create smaller file sizes and save bandwidth. Still, I found the Dudes Raw videos to be enjoyable and the bareback action hot.
The member's area was easy to use. The homepage features the videos in the order they were added and there's also a top-rated section, too. You can cruise through the videos in a variety of categories. And there's a model section allowing you to find all of a model's video appearances.
Another thing I didn't like about the videos is that they have a fairly large text watermark running the whole width of the screen at the bottom. I found this to be overkill and could be reduced.
All of the action at Dudes Raw is bareback fucking, and there was quite a bit of cock and hole close-up action, and hot footage of cummy butt holes. Most of the action is guy-on-guy, but there are about 15 threesome and group sex scenes. The downloadable videos and the lack of DRM allows you to beef up your private collection of bareback sex videos. There was a nice variety of guys, and as I said, there was something for everyone. There is a deal on the join page that allows you to join their brother site,
Cum Pig Men
, for $9.95 which gives you access to another nearly 300 videos.
Picture Samples
The below picture samples give you an idea about the style of the content and the looks of the models. The below pictures have been resized to fit into this page. Actual pictures are bigger. Click the thumbnails to see the larger versions. Larger versions will open in a new browser.
Videos
176+ videos
No
Yes
WMV, MP4, Flash
848 x 480, 630 x 400
Pictures
176+ photo sets
25 photos
Yes
No
629 x 950
Prices
$ 29.95 (recurring at $19.95)
$ 39.95 (non recurring)
$ 59.95 (non recurring)
Payment options: Credit Card, Online Check.
Discreetly billed by Epoch.
Additional Information
Share this review