Xtra Inches Review
Ranking
Price
$ 24.95
Information
January.18, 2010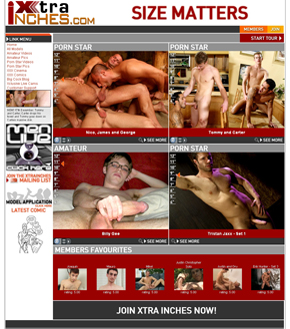 The Review
I'm sure most of us can figure out what kind of men Xtra Inches features. Yep, it's all about large to extra large cocks here my friends. Mind you, the men who own these huge dicks are certainly not hard to look at. Boasting amateurs as well as professionals alike, Xtra Inches believes that size matters and frankly, I must agree with them. There is nothing like watching a hot, muscular stud stroke his impressive erection or watching one fill a willing man hole with it. That's what you'll find here my friends. 283 videos, downloadable in WMV format, as well as flash stream options provide for some hardon inspiring entertainment. 527 action and solo image galleries can also be found. Add the bonuses with your membership and Xtra Inches could certainly be of interest to you.
The Xtra Inches Members Area is laid out with everything before you in an easy format to follow along with. Our main menu runs at the top of the left sidebar and reads as: Home, All Models, Amateur Videos, Amateur Pics, Porn Star Videos, Porn Star Pics, XXX Cinema, XXX Comics, Big cock Blog, Xclusive Live Cams, Customer Support and Billing Support. Under the menu we have a poll, Members Special ads to two black sites on the same network - Thug Orgy and Dark Thunder, a banner link to your favorites, a link to Men Live, another poll and a few more ads to other sites. Down the center of the home page of the Members Area we have the latest news and updates in a scrolling area. Under this we have in order: Latest Porn Star Videos, Latest Porn Star Pictures, Latest Amateur Video, Latest Amateur Pictures, Next MenLive Cam Show, Latest Archive of Men Live, Latest Big Cock Blog entry, Most Popular Update, and the latest updates from a few other sites on the same network. The links lead to previews of the most recent DVD releases. Finally, we have what's coming up on Xtra Inches.

There are two categories of videos inside Xtra Inches - Amateur and Porn Star. There are 104 Amateur videos and 179 Porn Star videos as of January 18th 2010. Thus, making a total of 283 videos altogether. For the Amateur videos, there are 12 on each page and for the Porn Star videos there are 24 on each page. Getting to each collection page is easy via numbered links at the top and bottom of each page. There are two options for viewing the videos at Xtra Inches: Flash and wmv embed: 38k-768k for flash and 38k-700k for wmv at a screen resolution of 640x480px and downloadable wmvs at a bitrate of between 804kbps and 910kbps. There doesn't seem to be any consistency as far as older of newer videos go. Screen resolution for these videos also varies, but most are at 640x480px.

There 137 Amateur picture galleries and 390 Porn Star picture galleries available inside Xtra Inches. Each gallery has an average of 20 pics per set. The sizes in photos vary according to their age on the site. The older gallery pics come in at a portrait size of 379x576px, while the newer ones are a bit larger at 480x720px. Each gallery is viewable in a flash format and you also have a slideshow option. There are no zip files available for downloading all images from each gallery, although you can save them individually to your computer. Navigating from one gallery collection page to another is the same as with the videos - numbered links at the top and bottom each page.

There are also screenshots available from each video scene which you can access on the video pages themselves. An average of 20 screenshots are featured on each gallery in a flash format and most come in at a screen resolution of 754x422px. You can save each image individually to your computer.

The most notable aspect about the models at Xtra Inches is that they're well hung. Some, very much so. Men from many different cultures and many different races can be found. So whether you like your men dark and delicious, white and creamy, or brown and spicy, all will be satisfied with the collection of men here. Tattoos, leather and some kink add even more flavor to the mix. There are 210 models in total at Xtra Inches. From solos to orgies are what we can find inside Xtra Inches. The intensity in action varies from scene to scene - depending on one's tastes. While I found the solo scenarios a tad boring, the action episodes are fantastic and we get to see lots of deepthroat and deep anal fucking going on. If you have a thing for leather and slings there is no shortage of that here. If you like things a little more tame there is plenty of big dicked hunks fucking their brains in a more "normal" capacity as well.

When Xtra Inches started out just a few years ago they had 9 Amateur videos and 20 Porn Star videos. Since then they've built up a massive amount of content and have even added some great extras for their Members. These are Big Cock Blog, live webmcam shows once a week through Men Live, 19 video feeds from other sites, and videos taken from exclusive webcam shows make this a package worth looking into. Xtra Inches delivers what they promise and the quality and content is definitely good. The fact the downloadable videos use DRM is a bit concerning, but the streaming options are great and offer quality entertainment nonetheless. A good site which just keeps on growing and growing. Just like the big cocks inside!

Picture Samples
The below picture samples give you an idea about the style of the content and the looks of the models. The below pictures have been resized to fit into this page. Actual pictures are bigger. Click the thumbnails to see the larger versions. Larger versions will open in a new browser.
Videos
283+ video shoots
Yes
Yes
Windows Media Player, Flash
640x480
Pictures
527+ photo sets
20 photos
No
Yes
379x576, 480x720, 754x422
Prices
$ 24.95 (recurring)
$ 49.95 (recurring)
$ 99.95 (non-recurring)
$ 149.00 (non-recurring)
Payment options: Credit Card, Online Check, Phone Billing, Postal Mail.
Discreetly billed by Epoch.
Additional Information