Butch Dixon Review
Ranking
Price
$ 26.95
$ 59.95
Information
January.02, 2010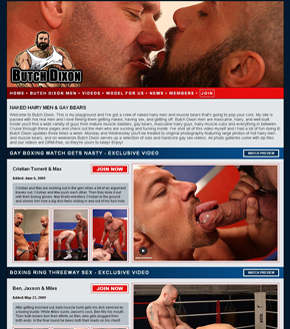 The Review
For those who love their men masculine, large or muscular, mostly hairy and more often than not, uncut, Butch Dixon may be just what the doctor ordered. Having only been around since September of 2008, they've already taken off as one of the best suppliers of hot, manly exclusive, hardcore gay porn.
With 3 updates per week - 1 video and 2 image sets - they're certainly growing at an amazing rate. Butch Dixon currently boasts more than 100 men, all engaged in 43 exclusive videos. All are downloadable and DRM free videos. There are also 212 good quality exclusive photo galleries, as well as a good amount of bonus videos and photo galleries. If these guys and the action they get into don't turn you on, I'd be pretty surprised.

Navigation at Butch Dixon is as easy as can be expected, with the main menu running below the header and the latest video updates added to the site below that. Following these are the latest bonus videos added, the top rated videos, the latest exclusive photo galleries, and then the top rated photo galleries. What's coming up finishes off the home page of the members area of Butch Dixon. The layout is simple and not once did I find myself lost or scrambling to find something. There are no ads inside the members area of Butch Dixon.

As of January 2nd 2010, Butch Dixon boasts 43 exclusive videos. Video viewing and download options are wmv, mov, iPhone, and Real Media. Quality ranges from 533kbps for the 428x240 resolution scenes and 2447kbps for the 960x540 resolution videos. Even the lower resolution videos however are better than average clarity. Length of the scenes vary from 5 minutes to well over 30 minutes. A Member can either download or stream the videos in either 3 parts, or the in each complete version. Most are available as embedded wmv's as well. DRM is not in effect for any of the videos at Butch Dixon.

There are 212 exclusive photo galleries inside Butch Dixon, with each gallery containing up to more than 150 pics per set. The photography is excellent, with portrait images at a size of 724x1024 and landscapes at 1024x724. The galleries can be viewed either in a simple thumbnail context, or in a flash slideshow. You may save each image by right clicking and "saving as", or download the provided zip files in each gallery.

Imagine the most masculine men in your dreams and this is what the models at Butch Dixon look like. Some are packing serious muscle on their large frames, while others aren't so big but even more hairy. Several of the men are uncut and show us they're very proud of this fact. A mixture of hardcore leather tops and bottoms, boxers, wrestlers, and even mature Daddy types describe the men of Butch Dixon to a certain degree. There are many different types profiles on this site.

The bottom line is they're all about as masculine as you can imagine. From solo jerking off scenarios to hardcore leather action and even boxers fucking after sparring, the action at Butch Dixon is some of the most entertaining I've ever seen inside a gay porn site. Uncut men pull on their thick foreskin, or have others pull on it for them with their fingers and/or mouths. Hairy asses get rimmed and then plundered with sometimes extra large cocks. It's men behaving like real men. Nothing but.

With a Butch Dixon membership you get access to 43 more non-exclusive videos, and 133 image galleries. Also non-exclusive. The action in these sets is just as entertaining and hardon inspiring though, so no worries there.

Butch Dixon has become a great site since it's birth just over a year ago. Their content continues to grow, as they update with 2 photo sets and 1 video per week. I've seen some improvements made since the last time I was inside, so that definitely bumps them up a bit more in my books. For those who get turned on by hairy, masculine, leather wearing, hardcore men, you really cannot go wrong with these guys. The video quality is very good, the photography is stellar, and the action is exactly what you would expect from guys who live to jerk off, suck cock and fuck ass. With a ton of extras added along with the exclusive content, you've got the makings of a great big furry fucking gay porn site. They get a big thumbs up from this guy!

Picture Samples
The below picture samples give you an idea about the style of the content and the looks of the models. The below pictures have been resized to fit into this page. Actual pictures are bigger. Click the thumbnails to see the larger versions. Larger versions will open in a new browser.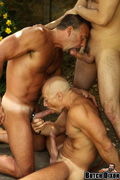 Videos
86+ video shoots
No
Yes
WMV, MOV, iPod, Real Media
428x240, 640x480, 960x540
Pictures
345+ photo sets
150 photos
Yes
Yes
724x1024
Prices
$ 26.95 (recurring at $ 24.95/mo)
$ 34.95 (non-recurring)
$ 59.95 (recurring at $ 19.95/mo)
Payment options: Credit Card, Debit Card, Phone Billing.
Discreetly billed by Epoch or CCBill.
Additional Information