Fraternity X Review
Ranking
Price
$ 24.95
Information
June 06, 2011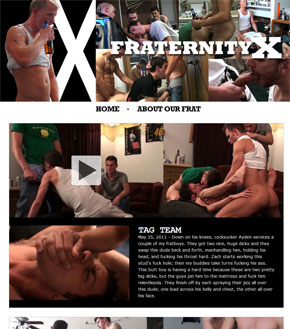 The Review
College guy and hazing sites are all the rage right now and Fraternity X is one of the newest ones. This gay porn site was created by a group of gay and bisexual college guys who live together in a fraternity at Arizona State University in Phoenix, Arizona. These guys don't seem to study much, I'm not even sure if they go to class, but they do spend a lot of time sitting around drinking, toking, and fucking.

Fraternity X is a brand new site so it only currently has nine episodes. They seem to be adding a new video every two weeks. All of the videos so far feature these horny college guys in group sex scenes from threeways to seven-guy gang bangs, and everything in between.

The guys on Fraternity X are college-aged guys in their twenties. They're mostly lean and smooth, although some are sporting more athletic or well-defined bodies. There's also quite a few of the guys who are uncut, so foreskin fans will like this site.

The videos are offered as streaming Flash movies and they're quite large, displaying at 900 x 550 pixels. The videos are good quality and play smoothly. There are no downloadable videos except for smaller versions that you can play on your iPhone or iPod.

Each episode comes with a small gallery of pictures, but I couldn't get their Lightbox picture viewer to work in either Firefox or Internet Explorer. This isn't a huge loss because there are only 8 to 12 pictures per episode and the thumbnails are large enough to give you a preview of the action you'll be seeing in the video.

The guys in the videos do quite a bit of drinking and sometimes they pass a bong around. Once they're hammered enough, then they start getting into the sex. In one video six frat boys invite a horny cocksucker over to service their dicks with his mouth and ass, and he ends up with six cum loads shot all over his face, chest, and belly. Other videos feature these college guys breaking in new frat boys, a welcome to the frat house sort of thing. While the guys suck and fuck, other dorm mates are filming the action with their video recorders, so there are a lot of different angles and good close-ups. Sometimes these guys get into the action, sometimes they just film.

There's a bit of hazing type stuff that happens, but nothing too serious. Mostly the scenarios just center around these frat guys getting drunk and high, whipping out their dicks, and getting it on with one another. Sometimes there's a bit of wrestling, rolling around on the floors, or spanking. And sometimes an uncooperative bottom guy is pinned to the floor while the others fuck his ass.

If you like group sex, Fraternity X is a good place to check out as I never saw anything less than threeway, but most of the videos feature more than four guys.

Fraternity X is a gay porn site that is run by the guys who live in this frat house and it's their way of earning money to put themselves through school. The videos are authentic and don't feel the least bit put on. The sex is unbridled and sometimes overly wild, and the fucking is often quite aggressive. There's plenty of sucking, fucking, rimming, and of course, some fantastic cum shots.

You'll have to have a little patience with Fraternity X as the site is growing slowly. But the videos they have on hand are definitely worth the price of admission. And the low monthly rate of $19.95 after the first month of $24.95 isn't too hard to swallow. Still, this amateur porn site is worth checking out. As I said, the videos have an authentic feel, the guys are hot, and these group fuck scenes are bonerlicious.


Videos
9+ videos
No
No
Quicktime
900 x 550
Pictures
9+ photo sets
10 photos
No
Yes
Unknown
Prices
$ 24.95 (recurring)
$ 34.95 (non recurring)
Payment options: Credit Card, Online Check.
Discreetly billed by CCbill.
Additional Information
Share this review