Men Over 30 Review
Ranking
Price
$ 1.00
$ 29.95
Information
November.20, 2009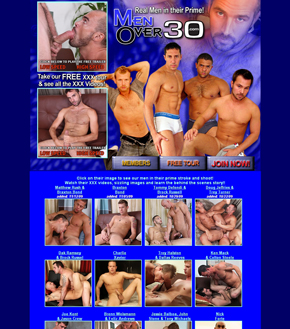 The Review
Men Over 30 has been providing the gay porn world with hunks over the age of 30 engaged in solo, duo and trio scenarios since 2004. Seeing as how they update each and every week, their library is a good size now in 2009. Whether you like your studs smooth, hairy, or with an average amount of man fur, these guys are hot! I rarely see one who isn't and I've been following them for a few years now. The actual ages range from 30 to just about 45.
The members area of Men Over 30 doesn't have a main menu. Which actually can make navigation a little confusing at times. All links are accessible through images either down the center of the pages or in left right sidebars from thumbnails and banners. On the main page of the members area we've got thumbnails linking to video feeds from 7 other sites as well as The Gay Movie of the Week. In the center area we've got what's coming up in the near future. Under that are the 3 latest added videos. Under each description there are links to watch the video, man chat, and the pictures for the shoot. At the very bottom is the link to see all exclusive episodes inside Men Over 30. In the right sidebar we see links to the 4 bonus sites and banners to a few ads.

210 exclusive video episodes are available inside Men Over 30 as of November 20, 2009. They are listed on 6 pages in total and can be accessed through a thumbnail link. The videos are viewable in several different options. The highest quality movies are available in a wmv format and come in 2 bitrates and resolutions: 384 kbps at 320x240 and 1.49 Mbps at a size of 640 x 480. DRM is in place for these videos so you will have to re-enter your login information each time you want to view them.

Also available are streaming and downloadable videos in Real Media and wmv. These are at much lower qualities than the DRM videos though - 240x180 at 121kbps and 320 x 240 at a bitrate of 384 Kbps. Mp4's are also available and these can be viewed and downloaded only in clips taken from the full videos. These are at 320 x 240 and not bad quality, but not nearly as good as the wmv's with DRM protection.

On each video page there is a link at the bottom to view each episode's picture gallery. Galleries are viewable in a classic thumnail style. Portraits are at a screen resolution of 538px × 800px and landscapes are at 800px × 538px. Each gallery has an average of 100 pics per set. I would say these are from amateur to good quality. At times they were repetitive though and I enjoyed the duo and trio images more than the solo ones. There are no zip files available for download, but members may save each picture separately to their computers.

Men Over 30 features men exactly like their name implies - men over the age of 30. These aren't your ordinary men really though. When it comes to hunks of all different kinds there are very few sites which are as versatile. From smooth to hairy, to muscular to just downright sexy. Most of the men here are well hung as well, with only a small amount being considered of average cock size. From solo action to hardcore duos, trios and circle jerks. Men Over 30 knows people like variety and they try their best to promote it. I watch 8 videos and there only one which I found somewhat yawn inspiring. The other 7 had me hard in seconds and truly enjoyed watching these hunks get off on each other. Like I said, these guys are anything but hard to look at and love to beat off, suck, rim and fuck.

I will be honest and say that I thought Men Over 30 would be larger in size after being around for so long. 210 videos is a good amount though and each has a matching picture set to go with it. I think what makes this a great deal is the access to 4 more completely exclusive sites as well as the video feeds and live web cams. The action itself is super hot, but I find myself a little miffed about the quality of the non DRM videos. They're rather small and the lower bitrates ones are hard to watch.

A membership to Men Over 30 includes a good amount of bonuses, members also get full access to Circle Jerk Boys, Boys Gone Bad, Boyz Party and Extra Big Dicks. These are also exclusive sites who have been around for a while. Also included are video feeds from 7 sites, and let's not forget the 34 live web cams. while all men aren't live all the time, there is always a few around you can chat with. Seeing as there aren't a lot of sites on the internet featuring men over the age of 30 as good looking as these guys, it could be worth the cost for those of you who crave mature studs.

Picture Samples
The below picture samples give you an idea about the style of the content and the looks of the models. The below pictures have been resized to fit into this page. Actual pictures are bigger. Click the thumbnails to see the larger versions. Larger versions will open in a new browser.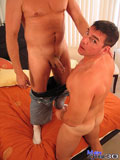 Videos
210+ video shoots
Yes
Yes
WMV, MP4
240x180, 320 x 240, 640x480
Pictures
210+ photo sets
100 photos
No
No
538x800
Prices
$ 1.00 (recurring)
$ 5.95 (recurring)
$ 9.95 (recurring)
$ 29.95 (recurring)
$ 69.95 (non recurring)
$ 99.95 (non recurring)
$ 149.95 (non recurring)
Payment options: Credit Card.
Discreetly billed by Local-Billing or Local-Bill.
Additional Information